1999 mercury cougar v6 5 speed
So after years of putting off I finally gathered the materials and knowledge of how to port and polish and fix issues that have plagued my car.
I'll first start with the vaccum system for the 2.5 v6 as that was the real issue and direct you to the materials needed for the repair or new replacement.
Here's the list of parts used as well as a link to get them.
1. You need a turbo vaccum manifold from ebay.
BLUE 1/8" NPT 6 Port Vacuum Manifold Kit fit Turbo Boost Intake Manifold | eBay
Or where else you want but that was the cheapest I could find .
2. You need some high temp silicone hoses in very specific sizes. Here the link.
Silicone Vacuum Hose Line Tube 2 3 4 5 6 8 9 10 12 13 16 mm ID 1 Foot | eBay
Make sure to get at least 4.2 feet of 3/8 inch I.D.
Then also get some 5/32 or 4mm silcone Hoses about 4 feet depending on how much ryour replacing as it could be more.
3. Next you need a 1/4 inch NPT TAP AND THREAD KIT.
1/4 In. Carbon Steel NPT Pipe Tap and 7/16 In . High Speed Steel Drill Bit Set . 313109857858 | eBay
Here it must be this size or it won't fit the brass sleeve that is pressed in.
4. Next your oing to need 3/8 barbed by 1/4 in NPT thread swivel 90. Must be swivel or you won't thread the fitting into the intake.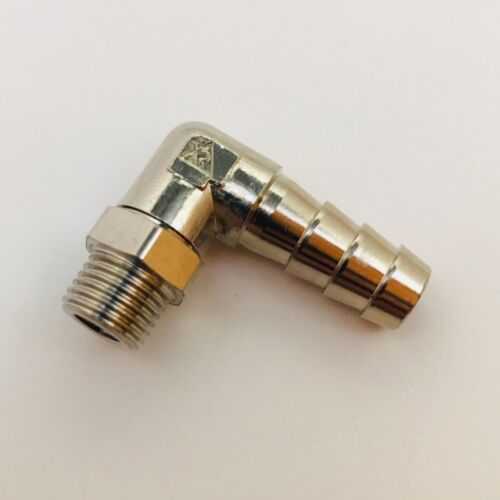 Find many great new & used options and get the best deals for 3/8" Barb 10mm x 1/4" Male NPT Brass 90° Elbow Swivel Rotating 360 Fitting #36 at the best online prices at eBay! Free shipping for many products!
5. Next you need to remove the old plastic bushings and orings located in the tip intake holes and then tap and thread them very carefully BUT I can't stress this enough oil it very well as you thread it or it will cross and the fitting won't thread in properly. Once the thread has been cut wash the manifold as a whole to remove as much carbon and metal shavings as possible. Once dry get some thread sealant and then wrap the threaded part going clockwise if the fitting has the threaded part towards the right of you and the barbed side on the other and wrap at least 3 times around to insure an air tight fit. Once done it should look like this.
6. Now that's done you can install on your car.
As you can see above the top vaccum hose on the vaccum solenoid must connect to the egr valve or it will cease to operate properly.
make sure you mount it as I do or to the left of thr ignition coil to insure it will clear the hood without issues.
Here is my finished product of the vaccum lines.
Here that in another post for this thread I'll do the porting and polishing portion.