Ah where to begin..... So I have had this car for about 12 years now and pretty much ever since then I have wanted to swap to a 3.0. But all the years of being a teenager, making stupid decisions and life got in the way. All the last few years of part searching, waiting, repairing and utterly dumping all my money into a car, are about to pay off..... finally.
So here is what the build will be consisting of;
ENGINE
2003 MPV hand rebuilt by yours truly.
King Bearings
Sealed power rings
oil Squirters drilled into block
ARP head studs
oil cooler, dmd.
SVT ECU and injectors
stage 4 "hot rod" race ported heads 10.5:1CR with SERDI cut valve job by cfm performance
SVT cams
SVT manifolds port matched with bugzuki plates
optimized SVT LIM and TB (haven't decided if I will tune the secondaries out or not)
coated msds headers, y-pipe.
custom exhaust
150 shot direct port nitrous:evil:
TRANSMISSION
3.8 FD
Slick shift forks
updated shift tower with roll pins
Torsen LSD
RAM powergrip clutch
SVT flywheel
all new bearings and preloads built by yours truly. (see my trans
build
thread for more)
all new axles and axle support
SUSPENSION
new rear subframe with boxed mounts
konis dropped on h&r springs
new Ford 4 bolt control arms
4 bolt subframe swap
tubular rear toe arms
poly rear sway links
19mm sway bar
freedom fstb
subframe connectors
SVT rack and pinion (quicker ratio)
BRAKES
stainless braided lines
EBC redstuff
EBC rotors
So the build started with the transmission which is already completed(see transmission thread if interested). Then the next step was to take a drive to NJ to pick up a 101k Mazda MPV motor for $350.
PS this place is the bomb diggity
dmd and 02 cougar front cover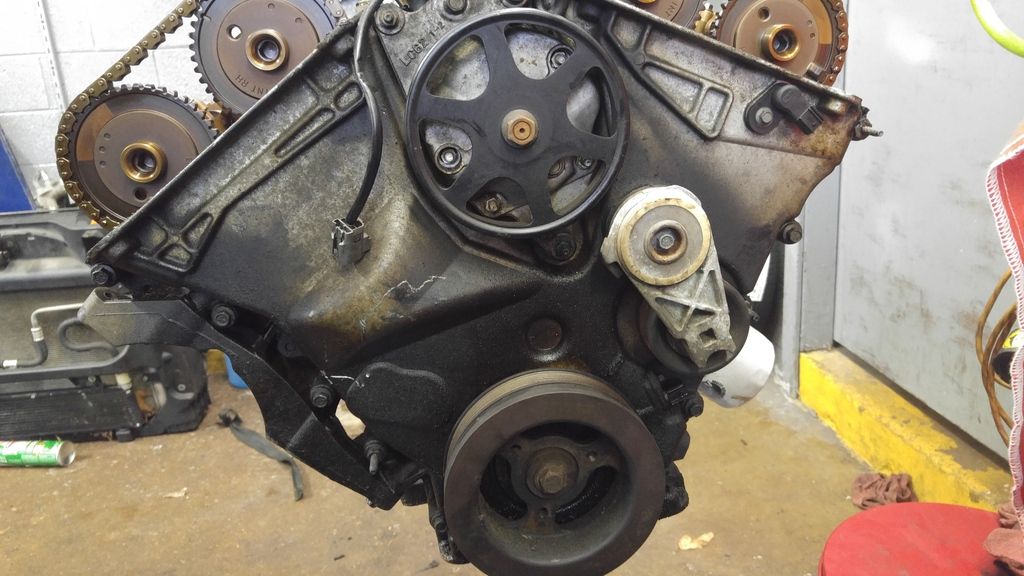 SVT oil cooler... notice they left the cats on for me.... thanks guys!! $$$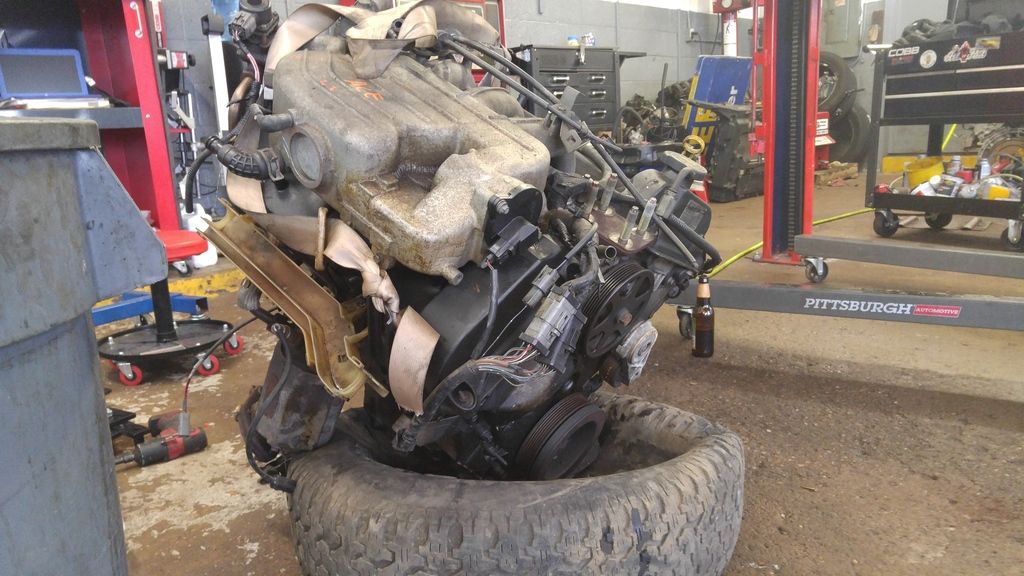 After pulling the first motor apart it ended up being a dud due to overheating. Number 2 piston had seized and lent some of its metal to the cylinder walls... how thoughtful
I called the JY and they ended up sending me a second motor which looked a LOT better.
I am assuming the benefits of this engine swap are generally well known but just in case anyone is wondering it is a DIRECT swap. Has the right oil pan, motor mount, timing cover also while having a DMD and a SVT oil cooler. basically mazda rooted through the bins to find all the goodies... Also it comes with what equates to a st200 lim as well (have 2 if anyone wants em)
So currently I am waiting on a barrage of parts to come in. also my heads are at CFM performance at the moment getting massaged by them. eta for those is a few weeks. So the bottom end assembly will be first. many pictures to follow.
ETA for the car to be done sans nitrous late april early may. will be making it to fest this year... finally