photobucket got all re re and money hungry. so till i get my own site here is a direct link to my phobucket
mtang folder
2014-2017 are broken down into folders. before that is in the mtang folder
start of 2017 Brakes and Cowl hood post 430
havent really posted a lot about the car since the rebuild so i figure i should put something up since it just hit the whole nother level this past weekend
Background: lets just say ive gone through a few motors so i decided 2 years back to fix that and have a motor built. I took the car to Buckeyesvt to do the build (he doesnt to it any longer though).
The build included these fun bits
Balanced crank with 8.5:1 Diamond pistons with Pauter rods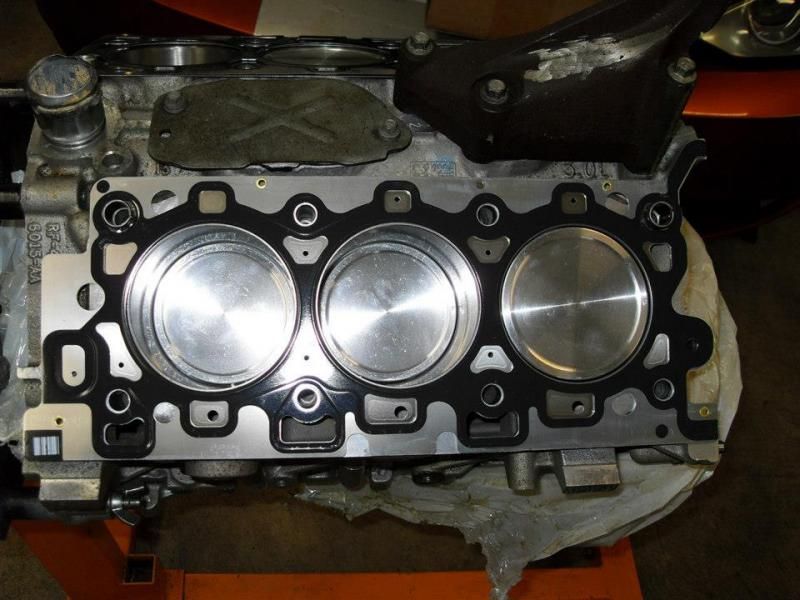 custom ground cams on heads that i ported out on the exhaust side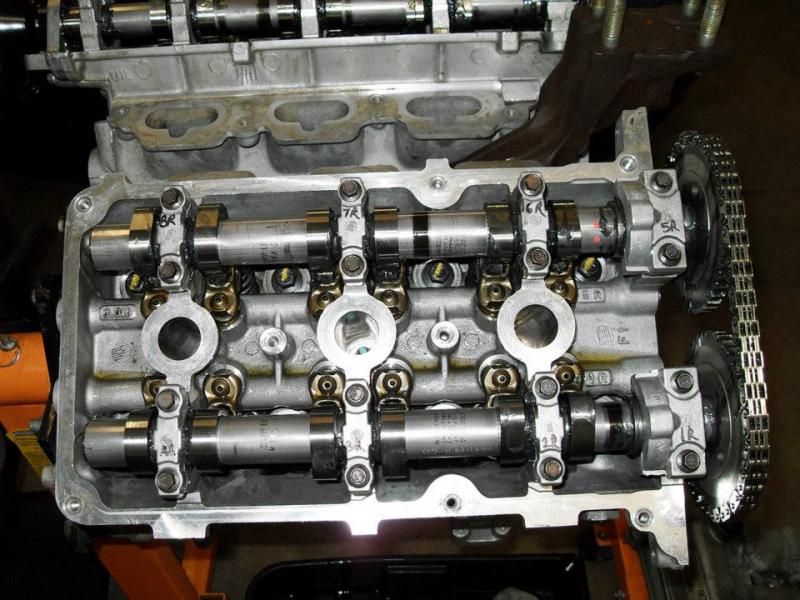 and a clutchmasters stage 4 six puck clutch
as well as these motor bits that were in the car already
Fidanza Flywheel
Torsen diff (more on this later)
Zetec FD
Vortech
air to water intercooler
all that netted me this
last year we ran the car with almost no issues, but if you were at cougarfest last year you may have participated in my trans pull because the diff grenaded itself. Terry Haines rebuilt the trans for me with a quaife from burton power and put in some new bits to replace some old worn bits.
We finished 2nd and 3rd locally last year because we were fiddling with stuff all season and trying to get it dialed in. I took it to nationals with the goal of not being last. I was 11/13 and the fastest non civic, i beat the only other non civic, a VW Scirocco.
This season the car hasnt been the same for 2 events in a row. It started with changing the Roush rear sway bar to an Aussie bar, and then changing out the air to water for a 30lb lighter set up.
next came a new steering wheel to ditch the Momo D shaped wheel that was in it. The D wheel became an issue because it was hard to flow smoothly out of hard turns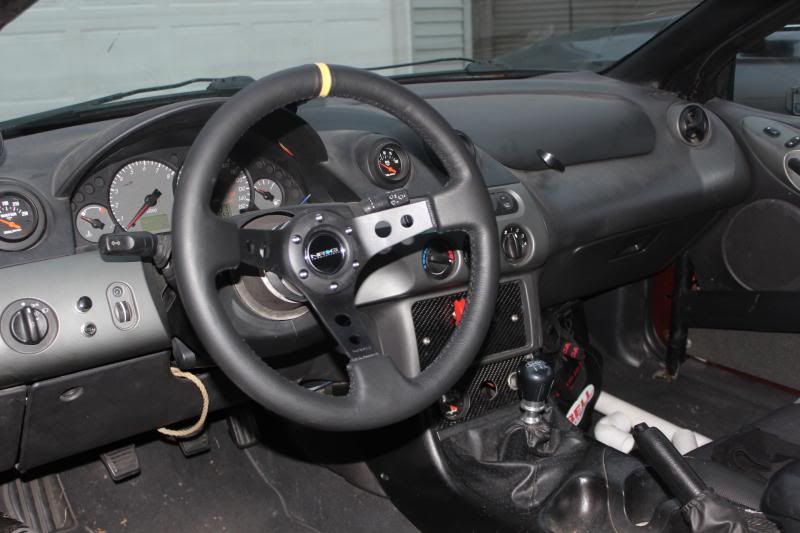 and a new Kirkey seat to sit a bit lower and save on some weight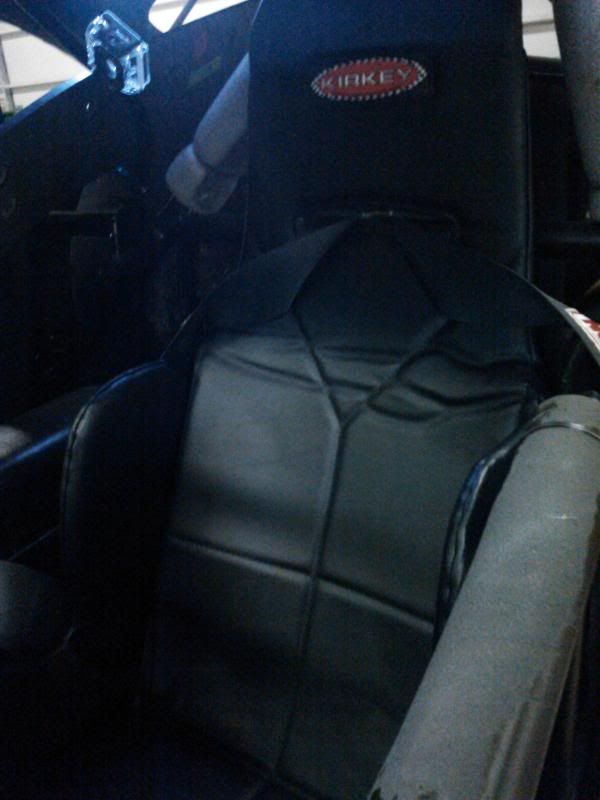 Next up was the PRT camber plates because we couldnt get the car to turn like we needed to, and in the past with less power and less tire i ripped 3 of the old style strut mount camber plates. I just got the slicked up and going to be smoothed out this weekend. but they make a HUGE change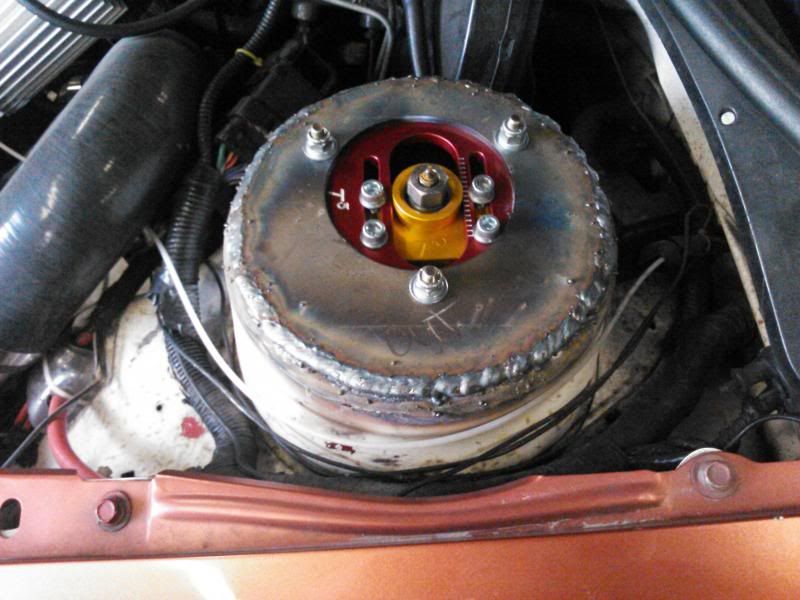 next up was some 17x9" wheels for the front (need to take a pic of them) but its the same style as my 17x8"s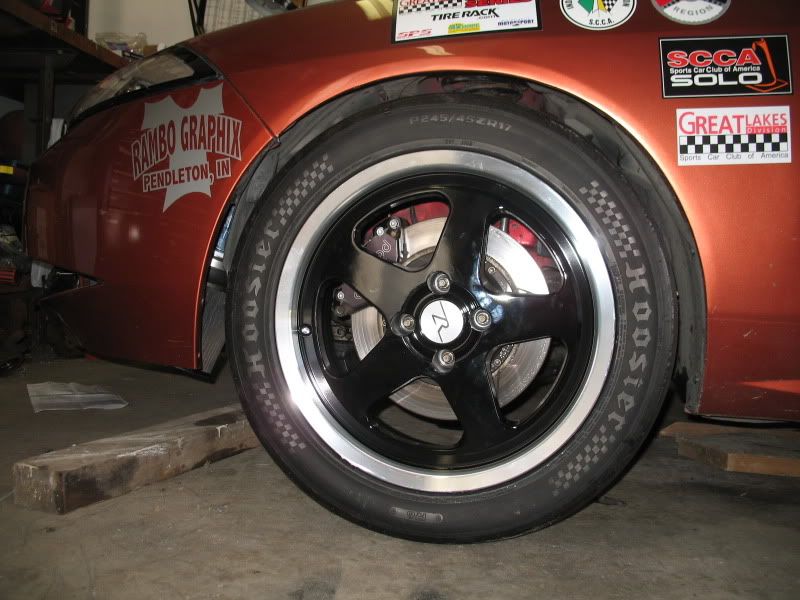 When i parted out alleys car it had an invader hood. its a bit ugly but it vents some heat out of the engine bay. and is now sanded and will be cleared
the last 2 weeks ive been working on a front splitter to get that last bit of grip, because 275's arent enough. The splitter is made of a NASCAR car of tomorrow splitter that was narrowed. i brain farted when i was doing it so i had to improvise a fix (happens when youre working after midnight). the air dam is made of 2 pieces of aluminum. The bumper is a transplant from Gulfcat/Nitecats car from fest this year, Thank you ladies.
Now i know its not the prettiest thing, so be gentle. its going to get revised over the winter(maybe sooner) because its......interesting to drive down the road and into and out of my driveway.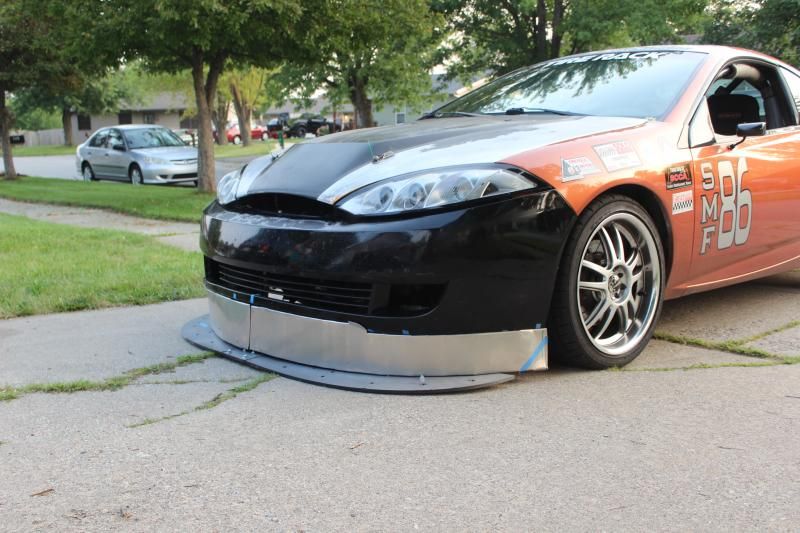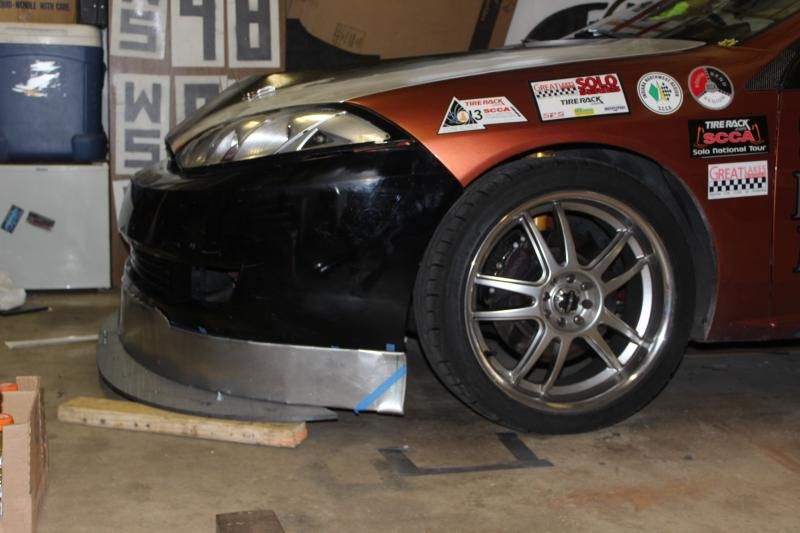 things to do still:
1. reinforce the splitter a bit differently, the splash guard holes didnt hold, and get a splash shield made to replace the stock one (some hose routing prevents using the stock one. easy fix
2. route a 3"ish hose to duct air up to the supercharger body, and some vents on the hood to expel the heat.
3. stewie control arms
4. A maybe: stiffer springs. i have 650/440 now and im compressing the struts all the way. Need to check some stuff still on that one
5. kirkey seat for the passenger side
Videos can be found here
jageds new autox videos
and as inspiration for everyone elses projects. i just got this photo from the guy i bought the car from and it started out like this