Discussion Starter
•
#1
•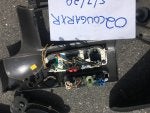 Up for Grabs from a 2000 V6 5 speed car. I would like to get rid of these so trying to price to sell. If you don't see something, I don't have it, even for nuts/bolts, I took pics of everything there is. Whatever doesn't sell relatively quickly will probably be donated to the trash bin. I'm located in Central Massachusetts and SCULLIN can vouch that the car was running when it was disassembled. If you need any questions asked, Please ask in the thread so others can see so it's not repeated and so people can call dibs if they want by first come first serve. Thanks
SO.....trying to order this from pics in their order.
1. 2000 door panels. undamaged and in pretty good shape. $20 each. Shipping on you.
2. battery tie down and nuts $10
3. Dash vent, undamaged. $15
Firewall hood seal $5
Fuel Tank Hole rubber grommet with sensor $5
Wire harness $5
A pillars no broken clips, $10 each
windshield wiper motor covers $5
Driver side door opening floor plastic cover $5
4. original complete spark plug separator holder thingies $5
Fuel injector harness that's been cut, good for the connector ends if you need any $5
wire hanesses $5 if you recognize the one you want
5 and 6.
Dash switches. the plastic dash itself isn't usable, I just kept the switches and cut the wires at the back. $10
7. complete mirrors. $15 each rubber gaskets $5 each driver door handle and frame $5
8. Dash vents missing passenger side. $5
9. headrests $5 each
speedo with approx 135 k and no damage $10
wiper arms $5 each
dipstick $5
fuse box panel $10
headlight and dimmer switch still in panel $10
beneath radio storage tray $5
hood release plastic latch undamaged $5
back hatch release button $5
throttle cable $5
10. fuse panel detail
Prices do not include shipping, but I'm very bored during this pandemic and would be willing to drive up to an hour away myself to meet up if it was at least $25 worth of stuff. just to pay for my gas at least. Part two is coming up.